Mellanox M3601Q InfiniBand Switch Blade

Performance and efficiency in a cost-effective solution

Dell Networking Products
Infiniband Blade Switches

Mellanox M3601Q InfiniBand Switch Blade
Call for Pricing!
Click here to jump to more pricing!
Overview:
High-bandwidth, low-latency fabric for enterprise data centers and high-performance-computing (HPC) environments.
Powerful, high-performance server blade switches
Full cross-sectional bandwidth from server blades to fabric
Reliable transport
I/O consolidation
Virtualization acceleration
The InfiniScale IV M3601Q 40Gb/s InfiniBand Blade Switch I/O Module for PowerEdge M-Series provides a high bandwidth, low latency fabric for Enterprise Data Center and High-Performance Computing environments. Based on the fourth generation InfiniScale IV InfiniBand switch device, the I/O module delivers up to 40Gb/s full bisectional bandwidth per port. When used in conjunction with ConnectX InfiniBand dual port mezzanine I/O cards, clustered data bases, parallelized applications and transactional services applications will achieve significant performance improvements resulting in reduced completion time and lower cost per operation.
Sustained Network Performance
The Mellanox M3601Q from Dell™ supports static routing to reduce or eliminate network congestion. For conditions in which output ports are oversubscribed, the M3601Q supports InfiniBand® Trade Association (IBTA) 1.2 congestion control mechanisms. The switch system works together with the ConnectX® I/O host channel adapter (HCA) to restrict the traffic causing congestion and ensure high bandwidth and low latency to all other flows. Whether used for parallel computation or as a converged fabric, the combination of high bandwidth, adaptive or static routing, and congestion control provides excellent traffic-carrying capacity.
Easy to Manage
The M3601Q is easily managed through any IBTA-compliant subnet manager. Mellanox recommends installing and running the OpenFabrics software stack on each server blade. Any server can then run the subnet manager, along with switch management tools. Port configuration and data paths can be set up automatically, or customized to meet the needs of the application. And you can update firmware in-band, for simple network maintenance.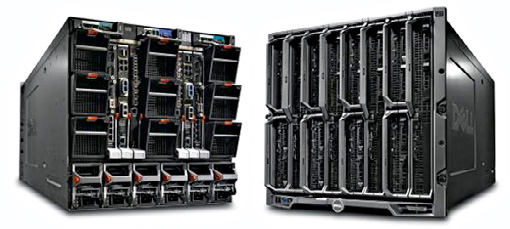 ---
Pricing and product availability subject to change without notice.
Dell Networking Products
Infiniband Blade Switches

Mellanox M3601Q InfiniBand Switch Blade
Call for Pricing!