Dell Cloud Connect

Ultra-compact Portable Cloud Access Device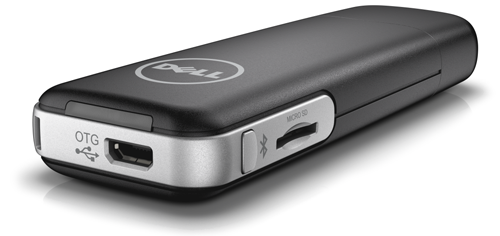 Sorry, this product is no longer available, please contact us for a replacement.
Overview:
Secure productivity from work, home, and on the go. IT managed enterprise client with outstanding portability, security, and rich user experience accessing broad applications and content in the cloud.
Cloud Connect is an ultra-compact device that turns any display with an MHL or HDMI™ port into a high-quality window to the cloud. While it looks like a USB flash drive, Cloud Connect performs like a PC or highly functional thin client. Cloud Connect is extreme mobile computing, allowing users to securely access personal and professional content from any compatible display, in virtually any room, anywhere. Display presentations or play online games without a laptop or tablet. Cloud Connect functions as a multipurpose Citrix, Microsoft RDP, or VMware thin client, a web client for web-based apps, or a stand-alone device for local apps and content. It includes the Android OS for access to thousands of apps in the Google App store.
What you'll need
To properly evaluate Cloud Connect you'll need a monitor or TV with an MHL or HDMI connection. If HDMI, connect to a powered USB port on the display or wall adapter with a USB port to power the device. Audio output comes from the display (e.g. display speaker bar or USB speaker attached to the display) or Bluetooth speakers. Also, side by side web access is highly recommended to connect to Cloud Client Manager (CCM). CCM is a SaaS based tool that manages Cloud Connect. Having the two side by side will allow you to make policy changes on CCM and almost instantly see the reflected changes on the Cloud Connect device.
Enterprise-class security
Designed to promote bring-your-own-device (BYOD) environments, Dell Wyse Cloud Connect allows you to securely access and share work and personal files, presentations, applications and other content from your business or your home. Managed through Dell Wyse Cloud Client Manager software-as-a-service (SaaS), IT managers can ensure that each Cloud Connect device is used by the appropriate person with the right permissions and access to the appropriate apps and content based on role, department and location.
Extreme mobile computing
Slightly larger than a USB memory stick, Cloud Connect is an ultra-compact multimedia-capable device. Simply plug it into any available HDMI / Mobile High-Definition Link (MHL) port on a TV or monitor, connect with a Bluetooth keyboard and mouse or tablet/smartphone using the Cloud Connect Controller app, and you're off and running. Cloud Connect enables an HD-quality window to the cloud, great for meetings and presentations while on business travel, or for cruising the internet and checking email after a day of work.
Zero-battery technology
Travel light, batteries and a power cord are not needed. Power for Cloud Connect is supplied through the MHL interface, or separately through the integrated USB port.
Highly optimized cloud-client computing
Designed to provide a full multimedia computing experience, Cloud Connect is packed with advanced technology features, including:
Preloaded Dell Wyse PocketCloud software for remote access to physical or virtual desktops, apps and content
Bluetooth interface for connecting to a wireless mouse and keyboard
802.11a/b/g/n dual-band WiFi
Android OS to support triple play (voice, data and video) for web browsing, social networking, media playback and access to thousands of apps through the Google Play Store
Ultrathin client
Providing a number of flexible options for remote cloud client-computing, Cloud Connect works with many existing Dell Wyse thin clients and software products. It can also access Citrix, Microsoft or VMware environments for web-based apps or a standalone device for local apps and content.
Useful virtually anywhere
With the ideal combination of functionality and portability, the Dell Wyse Cloud Connect allows you to efficiently extend your workspace without any loss in productivity.
Work in the office and on-the-go

All-in-one thin client for virtual desktop access at work, at home or on the road
Perfect for the office, hotel, tradeshow or press tour

Kiosks and digital signage

Simplified digital signage solution for retail or airport space
Easily repurposed from display to low-cost all-in-one thin client

Education

Ultra-low-cost thin clients for classrooms, libraries and labs
Take-home access to daily lessons and research materials
---
Pricing and product availability subject to change without notice.