Dell Wyse Cloud Client Manager

Support Consumer and Company Devices While Protecting Your Data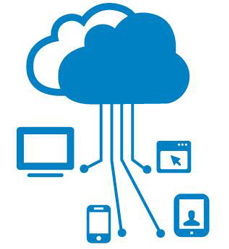 Dell Networking Products
Dell Wyse Software
Dell Wyse Cloud Client Manager
Call for Pricing!
Overview:
With more employees relying on smartphones and tablets to conduct business, it's important that these devices are properly secured and managed.
Dell Wyse Cloud Client Manager is a software-as-a-service (SaaS) solution that gives you and your IT team over-the-air configuration and policy management of a wide range of corporate and user-owned client devices through a single, intuitive console.
Use Dell Wyse Cloud Client Manager to:
Securely manage select user-owned mobile devices over the air, from virtually anywhere.
Configure and support Dell Wyse thin clients and select mobile devices from a single console.
Enable user self-service provisioning.
Monitor user devices, track asset inventory and enforce policy compliance.
Manage access to company applications and content. 
Dell Wyse Cloud Client manager enables remote management of corporate apps and content on corporate and user-owned devices. Now you can remotely:  
Empower end users with easy access to remote desktops as well as apps and content.
Distribute and manage iOS and Android apps on company-owned and user-owned devices.
Enforce mobile application policies and monitor compliance.
Maintain a complete mobile application inventory across your end users' mobile devices.
Help create consistent data protection and uniform policy compliance across all user devices.
Enable user self-service and receive real-time reports and alerts.
Reduce the strain on IT resources with a solution that allows policy-driven user self-service and automatic monitoring. The self-service component of Dell Wyse Cloud Client Manager allows you to establish policies within which users can manage their own devices.

Users can perform their own device registration, download system updates or troubleshoot certain issues.
Users can also download their own apps and content as policies permit.

With its real-time reporting and alert capabilities, Dell Wyse Cloud Client Manager can provide new levels of insight into your mobile device inventory.

Establish a single point of control.
Enable a clear view of your inventory.
Identify individual user needs.
Accurately define policy exceptions.
Deployment: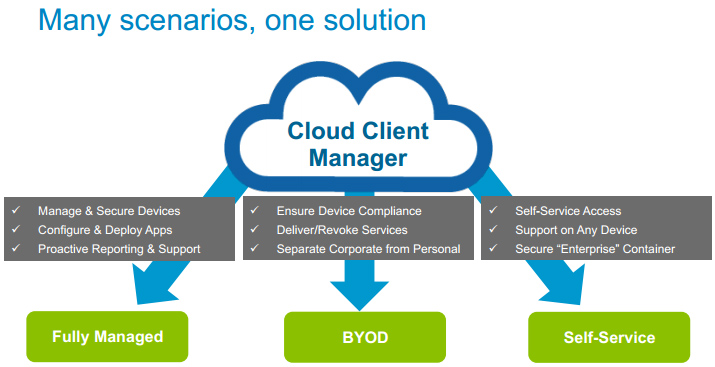 Solution Overview:
Dell Wyse Cloud Client Manager is a software as a service offering that empowers IT to securely manage end user devices, applications and content from a single, simple console while empowering end users with policy driven self-service capability.
The web based console provides four core areas of functionality:
Systems management
Application & content management
User self-service portal
Real-time reporting, alerts and analytics
Systems Management
App & Content Management

Secure, 'From Anywhere' device registration and deployment
Asset inventory and reporting
Robust, flexible policy/configuration management (globally or per group/user/device)
Role-based administration (global admin/view only/custom)
Dell Wyse ThinOS™ and Xenith™ clients
iOS and Android-based smartphone and tablets

Centralized application inventory
Application policy enforcement (mandatory/restricted/etc)
Simple enablement of remote desktops/apps/content (integration with Dell Wyse PocketCloud)
VPP support for iOS devices*
Secured email access (automate access to email based on compliance status)*

User Self-Service Portal
Real-Time Reporting and Alerts

Self onboard new mobile devices
View currently registered devices
View policies applied to devices
Locate/lock, wipe device (lost/stolen phone mitigation)
Option to enforce self service legal agreement

Real-time reporting and policy compliance alerts
Contextually summarized events for faster insight
Multi-way filters and searching through historical events and alerts
Detailed audit trails for user an admin functions