Dell Wyse WSM Desktop and Application Virtualization

On-Demand Desktop/App Virtualization and Server Provisioning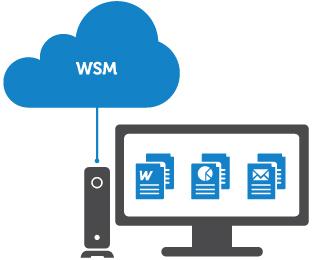 Dell Networking Products
Dell Wyse Software
Dell Wyse WSM Desktop and Application Virtualization
Call for Pricing!
Overview:
Enable virtually any Windows application to run on a cloud client endpoint just as it would on a traditional PC, without the security exposures or management and maintenance costs. Dell Wyse WSM delivers desktop images and applications separately to stateless, diskless clients on demand from the cloud. This enables IT to quickly swap OS images, with enterprise-wide software updates and patches as easy as a file drag-and-drop.
WSM also enables provisioning of server images from a central location to multiple physical or virtual server platforms.
Wyse WSM desktop and application virtualization features:
High performance: A rich locally executing speedy PC experience that, to the user, is indistinguishable from that of a traditional desktop system, with complete application and peripheral compatibility.
Easy maintenance: Centralized web-based administration with policy-based control, and one-click device recovery and cleanup.
Scalability: Distributed architecture with multiple server support that easily scales across a campus or a global enterprise.
Outstanding security and compliance
Provide a productive, uninterrupted virtual computing experience with Wyse WSM, enabling secure and tamper-resistant desktop and app virtualization. With stateless and diskless clients, desktops are extremely secure and require no local management.
Wyse WSM deployment benefits include:
Functionality even with WAN failure: Distributed architecture helps make sure that remote branches continue working with virtualized desktops and applications even if the wide area network (WAN) breaks down.
High security: All OS images, applications and data, including saves and writes, are safely stored on the server. The OS, applications and content are wiped clean from each client at log off.
Tamper resistance: Centrally managed distributed processing architecture helps ensure that OS images and applications meet government and/or industry compliance requirements.
Compatible with a vast array of apps and peripherals
If it works with Windows, it will work with WSM. Wyse WSM is adaptable to virtually any Windows environment, offering security, ease of management and control without the build-out cost of VDI. It allows flexible use of client endpoints, including existing desktops and laptops, thin clients or stateless cloud desktops. WSM is an ideal solution for:
Education: Manage virtual desktops throughout a school or district from a central location, and enable labs and classrooms to run a vast variety of Windows apps, including those not published for VDI. Retain tight control over apps and images through cloud desktops or offer more flexibility for users and administrators with laptops or thin clients for endpoints.
Healthcare: Gain the local performance of a desktop with the storage capacity of a central server with a cost-effective Wyse WSM deployment. Link your branch and distributed facilities through your wide area network (WAN) to help simplify compliance and ensure continuous availability.
Enterprise: A cost-effective alternative to VDI,Wyse WSM enables desktop and app virtualization across distributed geographic locations while retaining central control over security and compliance.

WSM Starter Kit now available: Evaluate WSM with a simple, easy-to-deploy and affordable starter kit. This preconfigured solution includes everything you need — just connect, power on and you're ready to go.
Dell Wyse WSM Starter Kit:
Get on the fast path to setting up your own high-performance virtual desktop and application solution with the Wyse WSM Starter Kit — an easy, cost-effective and scalable way to evaluate WSM technology.
Simple and affordable: With minimal up-front investment required, you get a complete, preconfigured solution to evaluate WSM.
Scale as you go: Everything you need is there, including Wyse cloud desktops for three users. Easily expand the solution and support up to 12 clients.
Quick and easy proof of concept: With the streamlined, plug-and-play deployment, all you have to do is connect, power on and you're ready to go. Evaluate within hours instead of days.
Everything you need to deploy WSM
Your starter kit includes all of the components you need: a server, networking device, cables and three cloud clients. It's preconfigured and easy to deploy, providing a simple way to experience the benefits of WSM virtual desktop computing.
The Wyse WSM Starter Kit includes:
Server: Wyse WSM software on a Dell desktop system
Networking: DHCP enabled router/switch and cables
Cloud desktops: Three Wyse 5000- D00D cloud desktops (one doubles as a reference device)
Peripherals: One keyboard and mouse for each cloud desktop
Monitors: Optional monitors (3) for clients
Software licenses: WSM licenses for cloud desktops
Services: One year of Dell ProSupport for the server, clients and WSM software