Dell Wyse vWorkspace

Simplify the Deployment and Management of Virtual Desktops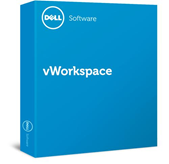 Dell Networking Products
Dell Wyse Software
Dell Wyse vWorkspace
Call for Pricing!
Wyse vWorkspace™ lets you deploy a blended model of VDI and terminal server technology – pairing appropriately with your users' unique needs while reducing your average cost per virtual desktop. vWorkspace Hyper-V Catalyst Components enable you to achieve faster provisioning and significant storage savings. Add to that precise load balancing and integrated user-experience monitoring and you get the best performance regardless of the device or platform.
Explore vWorkspace capabilities for brokering connections, simplifying enterprise-level management and optimizing the user-experience for your desktop virtualization project.
Try our free Workspace Assessment tool to determine if your environment is ready for desktop virtualization — and which VDI technologies would fit your organization.
vWorkspace makes desktop virtualization affordable, easy to manage and achievable for your organization.
Facilitate
BYOD in your workplace with vWorkspace connectors for iOS (iPad / iPhone), Android, Mac, Linux, and Java.
Blend 
virtual-desktop and application technology to suit your budget, as well as mix and match hosted VDI, local/offline VDI, TS/RDSH, and application virtualization.
Create 
virtual-desktop environments of all sizes in minutes to fit your needs with Desktop Clouds.
Maintain 
optimum performance of your virtual desktops through advanced load-balancing and scalability — right out of the box.
Eliminate 
your expensive SAN storage through seamless use of local storage (DAS).
Reduce 
network latency on your end users in home offices and offshore locations with patent-pending technology. 
Speed up 
updates and multimedia content for a heightened user experience across your organization's different devices using our Experience Optimized Protocol™ (EOP).
Customize 
your vWorkspace with a variety of platforms, storage solutions, access devices and licensing options.
Automate 
your organization's virtual-desktop management to reduce administration costs.
Enjoy 
quick start-up and smooth administration of your virtual-desktop infrastructure via installation wizards and a library of PowerShell cmdlets available in the vWorkspace Community.
Lock down 
your users' access with SSL gateway, delegated administration and optional multi-factor authentication.
Receive 
rich reporting on administrative actions, as well as your desktop state and environment configuration with one-click access.
Monitor 
your end-users' experience in real time and in a single view.