Dell 1000 Series Zero Client

Cloud Client-Computing for Windows MultiPoint Server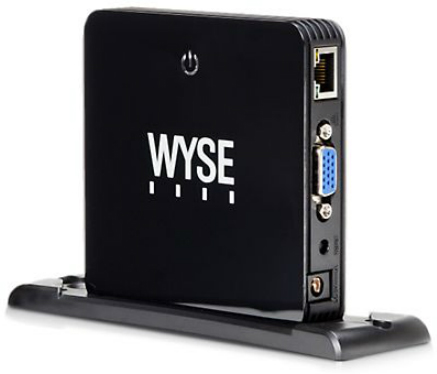 Dell Networking Products
Dell Zero Client

Dell 1000-E00 Zero Clients
Call for Pricing!

Dell 1002-E02 Zero Clients
Call for Pricing!
Click here to jump to more pricing!
Overview:
Wyse 1000 series entry-level zero clients help schools give students efficient, flexible and accessible Windows 7 desktops by maximizing the potential of shared computing with Windows MultiPoint Server 2011and 2012. The result? A truly affordable alternative to the costly classroom PC. It's easy to deploy and simple to set up and it's the only one in its class, capable of supporting USB peripherals like webcams and flash drives.
The benefits are dramatic, with little or no management required. And they're cool, compact and silent, and deliver rapid payback on pressured energy budgets with up to 90 percent reductions in energy consumption.
Benefits for your students, administrators, and you.
Up to 20 students can access a single host server running Windows Multipoint Server 2011 or 2012 while accelerating their learning experience. As a teacher, you'll appreciate the simple plug-n-play nature of Wyse 1000 series zero clients. To add more desktops, all you do is plug into the server — and your students can log in and begin learning in seconds.
Schools only need to service and support one host server per 20-seat workgroup. And, combined with the easy setup and management that's built into Windows MultiPoint Server, student desktop downtime and support issues are reduced, too. Since Wyse 1000 series zero clients draw a fraction of the power required to power full PC desktops, they'll have a dramatic effect on your energy budget — and your carbon footprint.
Smart computing that's good for our environment.
We're committed to helping schools and organizations implement a greener computing strategy: One that delivers a more efficient and productive computing experience, and a positive effect on energy wastage, heat and carbon emissions.
Deploying Wyse 1000 series clients helps your school to achieve a lighter carbon footprint. Wyse 1000 series clients boast considerable green credentials: Reduced manufacturing impact and end-of-life recycling waste, and as much as a 90 percent reduced energy consumption compared to a standard PC.
Specifications Comparison: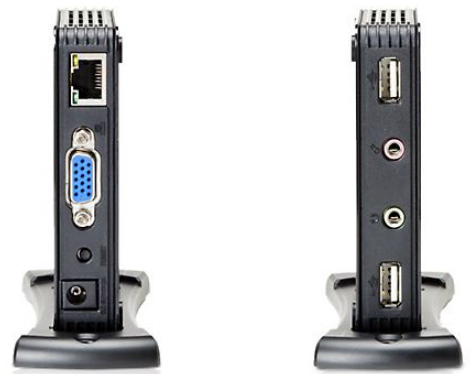 Legend: S — Standard, OA — Option Available, N — Not Available
1000-E00
1002-E02
Performance
Operating System
Microsoft Windows MultiPoint Server 2011
Microsoft Windows MultiPoint Server 2011
Power
Powered using USB connection (No separate power adaptor)
Worldwide autosensing 100–240 VAC, 50/60Hz power supply
Power consumption
Under 3 watts
Under 3 watts
Certifications
Certifications
(Based on US ratings)
-
-
I/O Peripheral Support
One VGA (DB-15)
S
S
Two USB 2.0 ports
S
Three USB 2.0 ports
USB Keyboard and mouse
AO
AO
One Mic In
N/A
AO
One Line Out
N/A
AO
Networking
One USB (Mini B type) in to connect to host computer (cable included)
10/100/1000 Base-T Ethernet
Display
Up to 1600 x 1200@60Hz/32 bits
Up to 1680 x 1050@60Hz, 32 bits or 1600 x 1200, 32 bits
Audio
Output
1/8-inch mini jack, full 16-bit stereo
1/8-inch mini jack
Input
1/8-inch mini jack, full 8-bit stereo
1/8-inch mini jack
1000-E00
1002-E02
Dimensions
Height x Width x Depth
17.5 mm x 103.2 mm x 56 mm (0.69 inches x 4.06 inches x 2.20 inches)
98 mm x 98 mm x 20 mm (3.86 inches x 3.86 inches x 0.79 inches)
Mountings
Vertical stand
N/A
S
Horizontal stand
S
N/A
Temperature Range
Vertical position
10° to 40° C (50° to 104° F)
10° to 40° C (50° to 104° F)
Storage
-10° to 60° C (14° to 140° F)
-10° to 60° C (14° to 140° F)
Humidity
Condensing
10% to 80%
20% to 80%
Noncondensing
10% to 95%
10% to 95%
Warranty
3-year limited hardware warranty
S
S
Pricing and product availability subject to change without notice.
Dell Networking Products
Dell Zero Client

Dell 1000-E00 Zero Clients
Call for Pricing!

Dell 1002-E02 Zero Clients
Call for Pricing!