Dell Networking E600i Virtualized Core Switching and Routing

Medium-sized chassis-based switch delivering 1/10GbE aggregation and core switching for virtualized data centers and cloud networks.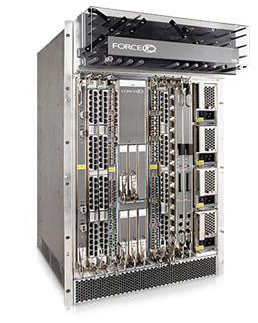 Dell Networking Products
Dell Networking E-Series Chassis Spare Components
Dell Networking E-Series Chassis Bundles
Click here to jump to more pricing!
Overview:
Virtualized core switching and routing
The Dell Networking E-Series delivers the high density required for virtualized data centers and cloud networks with two key models:
E600i is a 16RU chassis featuring up to 7 blade I/O slots coupled with a backplane driving up to 1.75 Tbps bandwidth
E1200i is a 24RU chassis featuring up to 14 blade I/O slots coupled with a backplane driving up to 3.5 Tbps bandwidth
Enable a new way of designing switching and routing infrastructures with Dell Networking E1200i platforms. The E1200i architecture, patented backplane and ASIC technology are designed to increase network availability, agility and efficiency while reducing power and cooling costs. The E1200i supports mission-critical applications across converged fabrics in data center, telecommunication provider, service provider, enterprise and HPCC networks. Dell Networking's E1200i platform coupled with FTOS makes a cost-effective and flexible deployment option complete with comprehensive management, automation and resource provisioning capabilities.
Dell Networking's Virtualized Network Fabric Framework
VirtualView™ is a suite of monitoring and provisioning features that optimizes the performance of virtualized and distributed networks
VirtualScale™ reduces TCO by consolidating the physical network and virtualizing boundaries
VirtualControl™ manages, controls and secures multiple switching and routing domains on one physical platform
Total cost of ownership (TCO)
Lower TCO through true non-blocking, line-rate throughput that removes performance bottlenecks from the network — all packet sizes, all the time
High-density fabrics enable simpler network topologies that reduce both network capital and operational costs

Up to 100 Gbps of data capacity per slot today (125 Gbps/slot raw capacity)
Up to 560 total 10GbE ports in one half-rack chassis using the high density 40-port line card
Switching fabric capacity of up to 3.5 Tbps, and packet forwarding capacity of more than 2 Bpps using hardware based distributed forwarding engines
Low power per line-rate port consumption with an eco-efficient power and cooling design that saves energy

Scale for tomorrow's network with converged fabric

IPv4 unicast and multicast routing for advanced services networks
IPv6-ready for native and dual-stack next-generation IP networks
100 Gbps/slot data capacity
Predictable and consistent latency at all frame sizes with high touch features enabled
Flexibility
Tunable, scalable high-capacity LAG with 64 links per group and 32 LAGs per system or 8 links per group and 255 LAGs per system uses advanced hashing algorithms to balance traffic evenly across links in backbone or aggregation applications
Buffering and virtual-output queues eliminate head-of-line blocking and minimize queuing delay to guarantee packet delivery
Configurable CAM profiles enable custom space allocation in hardware forwarding and classification tables to support flexibility and scalability as network requirements change
High availability, serviceability and manageability
Dell FTOS software, built on NetBSD and a Unix®-like kernel and running on the route processor modules (RPM) and line cards, enables new advances in control-plane scalability and system reliability
High performance RPM uses distributed control-plane processing on three CPUs and provides 1+1 control-plane redundancy with hitless forwarding
Redundant switch fabric modules (SFM) with graceful and deterministic failure recovery
High-availability hardware and software architecture with OIR (hot swap) of all components
Patented passive copper backplane
Power and cooling redundancy
Specifications:
Dell Networking E600i Virtualized Core Switching and Routing

Availability

Redundancy/Availability
1+1 redundant RPMs
4:1 redundant SFMs
1+1 redundant DC PEMs
2+2 redundant AC PSMs - 200/240 VAC
3+1 redundant AC PSMs - 100/120 VAC and 200/240 VAC

General IPv4 Protocols
791 IPv4
792 ICMP
826 ARP
1027 Proxy ARP
1035 DNS (client)
1042 Ethernet Transmission
1191 Path MTU Discovery
1305 NTPv3
1519 CIDR
1542 BOOTP (relay)
1812 Routers
1858 IP Fragment Filtering
2131 DHCP (relay)
2338 VRRP
3021 31-bit Prefixes
3046 DHCP Relay Agent Information Option
3128 Tiny Fragment Attack Protection

General IPv6 Protocols
1981 Path MTU Discovery (partial)
2460 IPv6
2461 Neighbor Discovery (partial)
2462 Stateless Address Autoconfiguration (partial)
2463 ICMPv6
2464 Ethernet Transmission
2675 Jumbograms
3587 Global Unicast Address Format
4291 Addressing

RIP
1058 RIPv1
2453 RIPv2

OSPF
1587 NSSA
2154 MD5
2328 OSPFv2
2370 Opaque LSA
2740 OSPFv3
3623 Graceful Restart
4222 Prioritization and Congestion Avoidance

IS-IS
1142 IS-IS
1195 IPv4 Routing
2763 Dynamic Hostname
2966 Domain-Wide Prefixes
3373 Three-way Handshake
3567 MD5
3784 Wide Metrics
5306 Restart Signaling for IS-IS
draft-ietf-isis-igp-p2p-over-lan-06 Point-to-Point Operation
draft-ietf-isis-ipv6-06 IPv6 Routing
draft-kaplan-isis-ext-eth-02 Extended Frame Size

BGP
1997 Communities
2385 MD5
2439 Route Flap Damping
2545 Multiprotocol Extensions for IPv6
2796 Route Reflection
2842 Capabilities
2858 Multiprotocol Extensions
2918 Route Refresh
3065 Confederations
4360 Extended Communities
4893 4-byte ASN
5396 4-byte ASN Representation
draft-ietf-idr-bgp4-20 BGPv4
draft-ietf-idr-restart-06 Graceful Restart

Multicast
1112 IGMPv1
2236 IGMPv2
2710 MLDv1
3376 IGMPv3
3569 SSM for IPv4/IPv6
3618 MSDP
3810 MLDv2
4541 IGMPv1/v2/v3, MLDv1 Snooping, MLDv2 Snooping
draft-ietf-pim-sm-v2-new-05 PIM-SM for IPv4/IPv6

Network Management
1155 SMIv1
1156 Internet MIB
1157 SNMPv1
1212 Concise MIB Definitions
1215 SNMP Traps
1493 Bridges MIB
1724 RIPv2 MIB
1850 OSPFv2 MIB
1901 Community-based SNMPv2
2011 IP MIB
2012 TCP MIB
2013 UDP MIB
2024 DLSw MIB
2096 IP Forwarding Table MIB
2570 SNMPv3
2571 Management Frameworks
2572 Message Processing and Dispatching
2574 SNMPv3 USM
2575 SNMPv3 VACM
2576 Coexistence Between SNMPv1/v2/v3
2578 SMIv2
2579 Textual Conventions for SMIv2
2580 Conformance Statements for SMIv2
2618 RADIUS Authentication MIB
2665 Ethernet-like Interfaces MIB
2674 Extended Bridge MIB
2787 VRRP MIB
2819 RMON MIB (groups 1, 2, 3, 9)
2863 Interfaces MIB
2865 RADIUS
3273 RMON High Capacity MIB
3416 SNMPv2
3418 SNMP MIB
3434 RMON High Capacity Alarm MIB
3580 802.1X with RADIUS
3815 LDP MIB
5060 PIM MIB
ANSI/TIA-1057 LLDP-MED MIB
draft-grant-tacacs-02 TACACS+
draft-ietf-idr-bgp4-mib-06 BGP MIBv1
draft-ietf-isis-wg-mib-16 IS-IS MIB
IEEE 802.1AB LLDP MIB
IEEE 802.1AB LLDP DOT1 MIB
IEEE 802.1AB LLDP DOT3 MIB
ruzin-mstp-mib-02 MSTP MIB (traps)
sFlow.org sFlowv5
sFlow.org sFlowv5 MIB (version 1.3)
Dell Networking-BGP4-V2-MIB
Dell Networking-FIB-MIB
Dell Networking-IF-EXTENSION-MIB
Dell Networking-LINKAGG-MIB
Dell Networking-CHASSIS-MIB
Dell Networking-COPY-CONFIG-MIB
Dell Networking-MON-MIB
Dell Networking-PRODUCTS-MIB
Dell Networking-SMI
Dell Networking-SYSTEM-COMPONENT-MIB
Dell Networking-TC-MIB
Dell Networking-TRAP-ALARM-MIB

IEEE Compliance
802.1AB LLDP
802.1D Bridging, STP
802.1p L2 Prioritization
802.1Q VLAN Tagging, Double VLAN Tagging, GVRP
802.1s MSTP
802.1w RSTP
802.1X Network Access Control
802.3ab Gigabit Ethernet (1000BASE-T)
802.3ac Frame Extensions for VLAN Tagging
802.3ad Link Aggregation with LACP
802.3ae 10 Gigabit Ethernet (10GBASE-W, 10GBASE-X)
802.3i Ethernet (10BASE-T)
802.3u Fast Ethernet (100BASE-TX)
802.3x Flow Control
ANSI/TIA-1057
LLDP-MED
Networking FRRP (Networking Redundant Ring Protocol)
Networking PVST+
MTU 9,252 bytes

RFC and I-D Compliance
General Internet Protocols
768 UDP
793 TCP
854 Telnet
959 FTP
1321 MD5
1350 TFTP
2474 Differentiated Services
2698 Two Rate Three Color Marker
3164 Syslog


Chassis

7 line card slots

Size:
16 RU, 28 h x 17.4 w x 21.45" d
(71.1 h x 44.2 w x 54.4 cm d)
Weight (factory-installed components): 81 lbs (36.7 kg)
Weight fully loaded: 242 lbs (109.8 kg)

19" front, 19" middle (optional) and 23" middle
(E600/E1200 only) rack mountable



Environmental

Maximum Operating Specifications:
Temperature: 32° to 104°F (0° to 40°C)
Altitude: no degradation to 10,000 feet (3,048 m)
Relative humidity: 5 to 85 percent, noncondensing

Maximum Non-operating Specifications:
Temperature: -40° to 158°F (-40° to 70°C)
Maximum altitude: 15,000 feet (4,572 meters)
Relative humidity: 5 to 95 percent, noncondensing


Power

AC Power
Nominal input voltage: 120-240 VAC 50/60 Hz

Maximum thermal output:
12,734 BTU/h (3,732 W) at 100/120 VAC
11,677 BTU/h (3,423 W) at 200/240 VAC

Maximum input current per module:
11.5 A at 100 VAC
9.6 A at 120 VAC
8.0 A at 200 VAC
6.7 A at 240 VAC

Maximum system power input:
4.0 KVA at 100/120 VAC
3.7 KVA at 200/240 VAC

Maximum power consumption:
3,982 W at 100/120 VAC
3,673 W at 200/240 VAC

DC Power
Nominal input voltage: -44 to -60 VDC
Maximum thermal output: 10,424 BTU/h (3,055 W)
Maximum current draw per DC PEM: 75 A
Maximum power consumption: 3,305 W


Regulatory

Safety
UL/CSA 60950-1, 1st Edition
EN 60950-1, 1st Edition
IEC 60950-1, 1st Edition Including all National Deviations
and Group Differences
EN 60825-1 Safety of Laser Products Part 1: Equipment Classification Requirements and User's Guide
EN 60825-2 Safety of Laser Products Part 2: Safety of Optical Fibre Communication Systems
FDA Regulation 21 CFR 1040.10 and 1040.11

Emissions
Australia/New Zealand: AS/NZS CISPR 22: 2006, Class A
Canada: ICES-003, Issue-4, Class A
Europe: EN 55022: 2006 (CISPR 22: 2006), Class A
Japan: VCCI V3/2007.04 Class A
USA: FCC CFR 47 Part 15, Subpart B, Class A

Immunity
EN 300 386 V1.3.3: 2005 EMC for Network Equipment
EN 55024: 1998 + A1: 2001 + A2: 2003
EN 61000-3-2: Harmonic Current Emissions
EN 61000-3-3:Voltage Fluctuations and Flicker
EN 61000-4-2: ESD
EN 61000-4-3: Radiated Immunity
EN 61000-4-4: EFT
EN 61000-4-5: Surge
EN 61000-4-6: Low Frequency Conducted Immunity

RoHS
All E-Series components are EU RoHS compliant.

Pricing and product availability subject to change without notice.