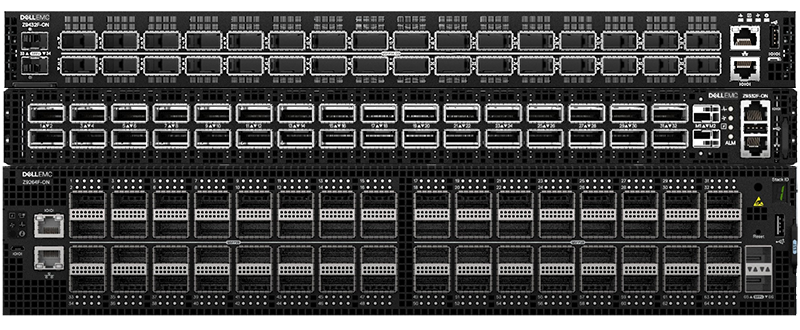 Dell PowerSwitch S Series 1GbE Switches
1GbE ToR switches designed for reliable server/storage aggregation in the rack and cost-effective deployment.
A family of low-end switches with superb performance and low latency
Achieve more agility, more choices and lower costs
Dell PowerSwitch S Series 10GbE Switches
10GbE ToR switches designed for flexibility and high performance for today's demanding workloads and applications.
A family of mid-range switches that enable you to find the ideal solution for your specific data center in-rack needs
Delivers low latency, superb performance and high density
Dell PowerSwitch S Series 25+GbE Switches
10/25/40/50/100/200/400GbE ToR or core/aggregation switches built for building high-capacity network fabrics that are easy to deploy, cost-effective and provide a clear path to a software-defined data center.
A family of high-performance, high-density switches, that are perfect for ToR or core/aggregation switching
Achieve optimum density, cost-effectiveness and performance
Dell PowerSwitch Z Series Switches
100GbE and 400GbE core/aggregation switches designed for building optimized data center leaf/spine fabrics of virtually any size.
A family of flexible, multi-rate 100GbE and 400GbE, high-performance switches for the future-ready data center
Provides the flexibility to stay ahead of data needs rather than reacting to them
---
Open Networking solutions for the software-defined data center
The Dell vision of the new data center networking model is an open ecosystem in which organizations can take their pick from innovative, industry-standard network applications, network operating systems and network hardware.
Open networking solutions enable IT managers to build an application-agnostic infrastructure and simplify data center management with standard automation tools and standards-based open platforms.
Industry Leader
First vendor to offer the disaggregated networking model
Innovative Products
Delivering networking systems with state-of-the-art technology
End-to-End Solutions
Integrated best-in-class networking, servers and storage solutions with global services and reach