Dell S4148T-ON

Dell PowerSwitch S4148T-ON Switch

Dell Products

Dell PowerSwitch S4148T-ON Switch
48 x 10GBase-T ports, 2 x 40GbE QFSP+ ports, 4 x 100GbE QFSP28 ports, Open Network Install Environment (ONIE)
Click here to jump to more pricing!
Overview:
High-performance open networking top-of-rack switches with multirate Gigabit Ethernet and unified ports
The S4100-ON 10GbE switches comprise DellTechnologies' latest disaggregated hardware and software data center networking solutions, providing state-of-the-art 100GbE uplinks, fibre channel connectivity and a broad range of functionality to meet the growing demands of today's data center environment. These innovative, next-generation top-of-rack open networking switches offer optimum flexibility and cost-effectiveness for the enterprise, midmarket and tier 2 cloud service providers with demanding compute and storage traffic environments.
The compact S4100-ON models provide industry-leading density with up to 48 ports of 10GbE or up to 48 ports of 10GBaseT ports, 2 ports of 40GbE and 4 ports of 100GbE in a 1RU form factor. The S4148U-ON model can support up to 28 8/16G fibre channel ports, or 16 ports of 32G* fibre channel ports. The S4112-ON is a half-rack width model that supports up to 12 ports of 10GbE or 12 ports 10GBaseT, and 3 ports of 100GbE.
Using industry-leading hardware and a choice of Dell SmartFabric OS10 or select 3rd party network operating systems and tools, the S4100-ON Series offers flexibility by provision of configuration profiles and delivers non-blocking performance for workloads sensitive to packet loss. The compact S4100-ON models provide multirate speed, enabling denser footprints and simplifying migration to 100Gbps. Also unique to the S4100- ON series is the ability to meet the demands of converged and virtualized data centers by offering unified ports (S4148U) and hardware support for L2 and L3 VXLAN Gateway. Priority-based flow control (PFC), data center bridge exchange (DCBX) and enhanced transmission selection (ETS) make the S4100-ON ideally suited for DCB environments. Dell PowerSwitch S4100-ON switches support the open source Open Network Install Environment (ONIE) for zero touch installation of Dell SmartFabric OS10 networking operating system, as well as of alternative network operating systems.
Maximum performance and functionality
The S4100-ON series are high-performance, multifunction, 1/10/25/40/50/100 GbE and 8/16/32G FC top-of-rack (ToR) switches purpose-built for applications in high-performance data center, cloud and computing environments. Architectural features to optimize data center network flexibility, efficiency and availability include IO panel to PSU airflow or PSU to IO panel airflow for hot/cold aisle environments and redundant, hot-swappable power supplies and fans.
Key applications
Dynamic data centers ready to make the transition to softwaredefined environments
Organizations looking to enter the software-defined data center era with a choice of networking technologies designed to maximize flexibility
Multi-functional 1/10/25/40/50/100 GbE switching in High Performance Computing Clusters or other business-sensitive deployments requiring the highest bandwidth. High-density 1/10 GbE ToR server access in high-performance data center environments
iSCSI and FC storage deployment, including DCB converged lossless transactions
Small-scale data center fabric implementation via the S4100-ON switch in leaf and spine along with S-Series 1/10GbE ToR switches
VXLAN layer 2/layer 3 gateway support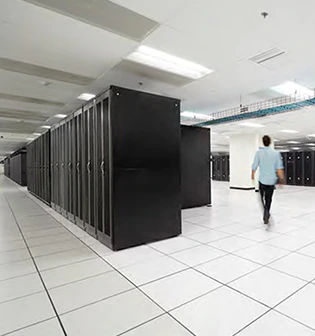 Optimized for the open networking era
Get more agility, more choices and lower costs than proprietary networks with select, open-standards-based ON (open networking) switches.
Disaggregated-hardware/software solutions bring new levels of freedom and flexibility to your data center.
Support for Open Network Install Environment (ONIE) enables zero-touch installation of alternate network operating systems.
Your choice of network operating system helps simplify data-center fabric orchestration and automation.
A broad ecosystem of open-source and Linux-based applications and tools provides more options to optimize and manage your network.
Developed for flexibility
The Dell Networking S-Series 10/40GbE switches offer a family of products that enable you to find the ideal solution for your specific needs.
Line-rate performance from 1/10G BASE-T to 40GbE and port densities from 28 to 48
Efficient stacking offered in many S-Series models
Industry-hardened and feature-rich operating system for maximum dependability and uptime with select third-party OS options
Full support for iSCSI storage area networks, including DCB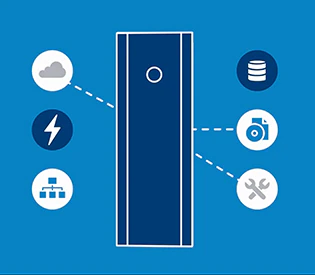 ---
Pricing Notes:
Pricing and product availability subject to change without notice.
Dell Products

Dell PowerSwitch S4148T-ON Switch
48 x 10GBase-T ports, 2 x 40GbE QFSP+ ports, 4 x 100GbE QFSP28 ports, Open Network Install Environment (ONIE)