Dell Z9664F-ON

Dell PowerSwitch Z9664F-ON Switch

Dell Products

Dell PowerSwitch Z9664F-ON Switch
64 ports 400GbE QSFP56-DD, 2x AC PSU
Click here to jump to more pricing!
Overview:
High-performance, high-density open networking 400GbE multi rate aggregation switch
Dell PowerSwitch Z9664F-ON 100/400GbE fixed switch comprises Dell Technologies' latest disaggregated hardware and software data center networking solutions, providing state-of-the-art, high-density 100/400GbE ports and a broad range of functionality to meet the growing demands of today's data center environment. This innovative, next-generation open networking high-density aggregation switch offers optimum flexibility and costeffectiveness for the web 2.0, edge, large enterprises, mid-market and cloud service providers with demanding compute and storage traffic environments.
The compact PowerSwitch Z9664F-ON provides highdensity of either 64 ports of 400GbE in QSFP56-DD form factor or 256 ports of 100GbE in a 2RU design, and can be used as a 10/25/40/50/100/200 switch via breakout cables for a maximum of 256 ports.
Using industry-leading hardware and a choice of Dell SmartFabric OS10 or select 3rd party network operating systems and tools, the Z9664F-ON switch incorporates multiple architectural features that optimize data center network flexibility, efficiency and availability, including IO panel to PSU and PSU to IO panel airflow for hot/ cold aisle environments, redundant, hot-swappable power supplies and fans and delivers non-blocking performance for workloads sensitive to packet loss. The compact Z9664FON model provides multi-rate speed, enabling denser footprints and simplifying migration to 400Gbps.
Priority-based flow control (PFC), data center bridge exchange (DCBX) and enhanced transmission selection (ETS) make the Z9664F-ON ideally suited for DCB environments.
The Dell PowerSwitch Z9664F-ON switch supports the open source Open Network Install Environment (ONIE) for zero touch installation of Dell SmartFabric OS10 networking operating system, Enterprise SONiC Distribution by Dell Technologies* as well as of alternative network operating systems.
Key applications
Organizations looking to enter the softwaredefined data center era with a choice of networking technologies designed to maximize flexibility
High-density multi-rate 100/400GbE ToR/MoR server aggregation in high-performance data center environments at the desired fabric speed
Fabric implementation in leaf and spine along with S-series ToR switches enabling cost-effective aggregation of 100/400 uplinks
Multi-functional 10/25/40/50/100/200/400GbE switching in High Performance Computing clusters or other business-sensitive deployments requiring the highest bandwidth
iSCSI and FCOE deployment, including DCB converged lossless transactions
NVMe/TCP and Dell SmartFabric Storage Software (SFSS) support for automation of storage services on a wide range of existing IP fabrics
Autonomous data center network fabric deployment, expansion and lifecycle management with SmartFabric Services (SFS), automating and simplifying networking
Networking for the future-ready data center
Dell Networking Z-Series of core/aggregation switches provide optimal flexibility, performance, density and power efficiency for your data center. Offering a range of fixed-form-factor switches, the Z-Series is designed to deliver high performance for today's demanding workloads while providing headroom for future data-center demands.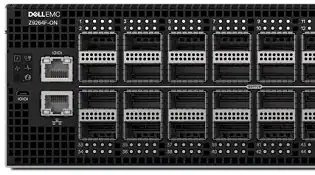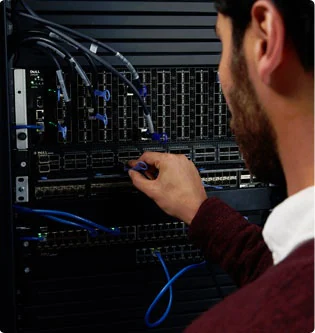 Ultimate flexibility — from density to deployment
Dell Networking Z-Series switches not only simplify manageability, they give you the flexibility to stay ahead of data needs rather than react to them.
Optimized leaf/spine architecture with Z-Series switches supports data centers of virtually any size, with up to over 100,000 servers.
Exceptionally high density with the Z9664F-ON providing either 64 ports of 400GbE or 256 ports of 100GbE
Energy and resource efficient
Dell Networking Z-Series offers outstanding performance and is one of the most power-efficient fabric switches on the market today. The Z series switches help reduce energy costs, speed setup and improve the bottom line with:
Up to one-third the power consumption of comparable leading switches
Up to 7x faster deployment over traditional deployment methods
Tool-less enterprise ReadyRails for fast, easy installation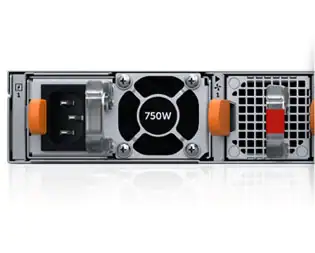 On-demand performance
For mid-sized to enterprise data centers, pay-as-you-grow licensing or multi-rate options can mean the difference between being leading edge or falling behind. Right out of the box, Z-Series switches give you scalable performance on demand.
Multi-rate options including 10, 25, 40, 50, 100 or 200GbE
Up to 51.2Tbps non-blocking (full duplex) under full load
Exceptional low latency delivering sub microsec latency
User-configurable table adjustments for virtualized data-center deployments

---
Pricing Notes:
Pricing and product availability subject to change without notice.
Dell Products

Dell PowerSwitch Z9664F-ON Switch
64 ports 400GbE QSFP56-DD, 2x AC PSU