Dell Networking Z9500 Ethernet Fabric Switch

High-performance 10/40GbE fabric switch

Sorry, this product is no longer available, please contact us for a replacement.
Overview:
Industry-leading, high-density 3RU with 132 ports of 40GbE (528 ports of 1/10GbE using breakout cables), low latency, low power and high throughput to ensure line-rate performance, feature-rich Dell Networking Operating System 9, and full L2 switching and L3 routing with rich manageability features.
Dell Active Fabric switch
Z9500 is a compact, next-generation switch/router designed for industry-leading, high-density 10/40GbE aggregation in a data center core network. The Z9500 addresses data center 10/40GE aggregation requirements through traditional hierarchical core or distributed core architectures for high-performance enterprise data centers, high-performance computing (HPC), cloud computing, hyperscale data centers and provider-hosted data centers. As a compact fixed form factor switch, the Z9500 can be positioned as a core, aggregation or end-of-row switch. The Z9500 can support 132 ports of 40GbE QSFP or 528 ports of 1/10GbE SFP+ realized through breakout cables and includes a full suite of Ethernet switching and routing protocols in the hardened Dell Networking Operating System 9 (OS9) to enable layer 2 or layer 3 network architectures. The Z9500 supports a userfriendly pay-as-you-go* pricing model, allowing customers to license 36-, 84- or 132-port SKUs according to their business needs. Pay-as-you-go* pricing can be upgraded to a higher port density with a simple software license.
The Z9500 also supports Dell Networking's Open Automation Framework, which provides advanced network automation and virtualization capabilities for virtual data center environments. The Open Automation Framework is comprised of a suite of inter-related network management tools that can be used together or independently to provide a network that is more flexible, available and manageable while reducing operational expenses. Built-in support for key network virtualization and software defined networking capabilities help enable customers with future-ready agility, optimized for virtual services deployment and delivery.
Ultimate flexibility
The Z9500 offers the ultimate in flexibility from density to deployment. When you install this 3RU switch in your data center, you'll not only simplify manageability, you'll be able to stay ahead of your data needs rather than react to them.
Consider these key features:
132 ports of 40GbE or 528 ports of 10GbE breakout mode in 3RU
L2/L3 in a leaf-spine configuration with architectures up to over 100,000 servers
License 36, 84, or 132 ports according to your business needs
Low latency – 600-2000ns
On-demand performance
Whether your data center is mid-sized or enterprise level, the ability to pay-as-you-grow can mean the difference between leading edge and falling behind. Right out of the box, the Z9500 gives you scalable performance on-demand. 
Keep pace with your customers, and increase business value with these key features:
Four times higher throughput (10 Tbs), and 25% lower latency than the previous generation Z9000
User configurable table adjustments to allow for expanding virtualized data center characteristics
Double the density per RU and half the latency of the leading competitor
Energy and resource efficient
The Z9500 offers superior performance at one-third the power consumption of the leading competitor making it one of the most power efficient fabric switches on the market today.
Reduce energy costs, speed setup and improve the bottom line with:
4.7W per 10GbE port
Up to 7x faster deployment over traditional configurations
Tool-less Enterprise ReadyRails™ for fast, easy installation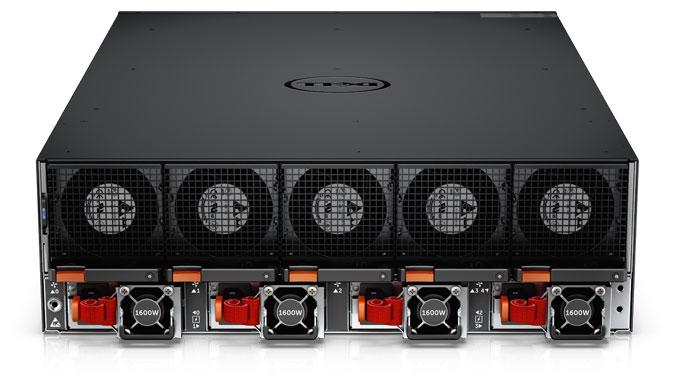 Key applications
Active Fabric 10/40GbE switching in enterprise, HPC and cloud computing data centers that require the highest bandwidth and performance for 1/10GbE servers
Switching device for non-blocking clos architectures in hyperscale data centers
High-density 10/40 bE end-of-row switch for blade server aggregation
Small-scale Active Fabric spine switch along with S-Series 1/10GbE top-of-rack (ToR) switches for cost-effective aggregation of 10/40GbE uplinks
Key features
3RU high-density 10/40GbE ToR switch with 132 ports of 40GbE (QSFP+) or 528 ports of 1/10GbE (with breakout cables)
With 10.4Tbps of switching I/O bandwidth (full-duplex) and available non-blocking switching fabric, the Z9500 delivers line-rate performance under full load with sub-2us latency
Scalable L2 and L3 Ethernet switching with QoS and a full complement of standards-based IPv4 and IPv6 features, including OSPF and BGP routing support
I/O panel to PSU airflow
Open Automation Framework adds automated configuration and provisioning capabilities to simplify the management of network environments
Modular Dell Networking OS9 software delivers inherent stability as well as advanced monitoring and serviceability functions
Supports jumbo frames for high-end server connectivity
128 link aggregation groups with up to 16 members per group using advanced hashing
Redundant hot-swappable power supplies and fans
Low power consumption using a PHY-less design
Support for L2 multipath using Virtual Link Trunking (VLT)* and mVLT multi-chassis link aggregation technology
Routed VLT (rVLT)* enables L3 routing protocol support in VLT LAGs and also replaces VRRP L3 gateway at the access layer with scaled L3 VLAN support
OpenFlow 1.0-ready functionality for SDN* applications
Tool-less Enterprise ReadyRails™ mounting kits reduce time and resources for switch rack installation
Power-efficient operation with close to 4W per 1/10GbE port for nominal power consumption
---
Pricing and product availability subject to change without notice.