Enterprise SONiC Distribution by Dell Technologies

Open Source networking innovation with enterprise-grade features and global support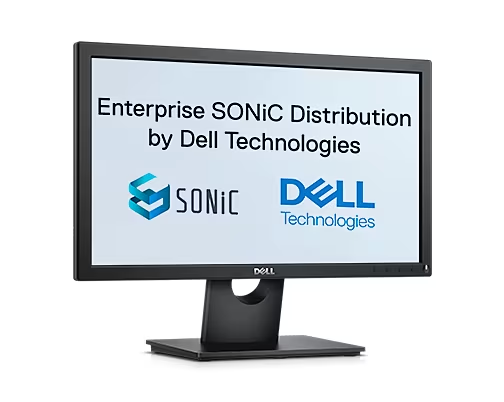 Overview:
Dell Technologies is Taking Open-Source software, mainstream
IT organizations around the globe strive to deliver superior business value by helping their organizations increase productivity, deliver services faster and remain flexible by incorporating the latest technology innovations like automation, containers and cloud. In addition, the use of modern applications and workloads like virtualization, cloud, IoT and AI are pushing the boundaries of existing data centers as more and more traffic moves from the edge of the network to the core and into the cloud. These organizations need a modern network infrastructure that can support these demands.
Software for Open Networking in the Cloud (SONiC) represents open source innovation at its finest, and as it evolves and matures, it is expanding beyond the public cloud, into large-scale enterprises, private clouds and service providers, empowering them to modernize their networks, easily address emerging IT scenarios, and overcome evolving business challenges.
Enterprise SONiC Distribution by Dell Technologies helps IT organizations to run their business with the innovation, automation and reliability that comes from a commercial offering of SONiC with production-ready enterprise feature enhancements, hardening and global support targeted for demanding cloud, data center and edge fabrics.
Open source innovation – based on SONiC, Enterprise SONiC Distribution by Dell Technologies builds on Dell Technologies long history of contributing with and contributing to the open source SONiC community with new features and capabilities ranging across the protocol stack and management applications.
Edge, Enterprise and Cloud ready – Enterprise SONiC Distribution by Dell Technologies is enterprise-class tested and validated across hardware and software, field-tested in hyper-scale environments, includes a centralized management platform, and is integrated with a growing ecosystem of partner automation/orchestration applications.
Flexible Hardware Options – Dell Enterprise SONiC supports not only a broad portfolio of high performance data center and edge switching options with Dell PowerSwitch, but is also validated on select third-party switch options to provide greater choice and flexibility for your fabric architecture.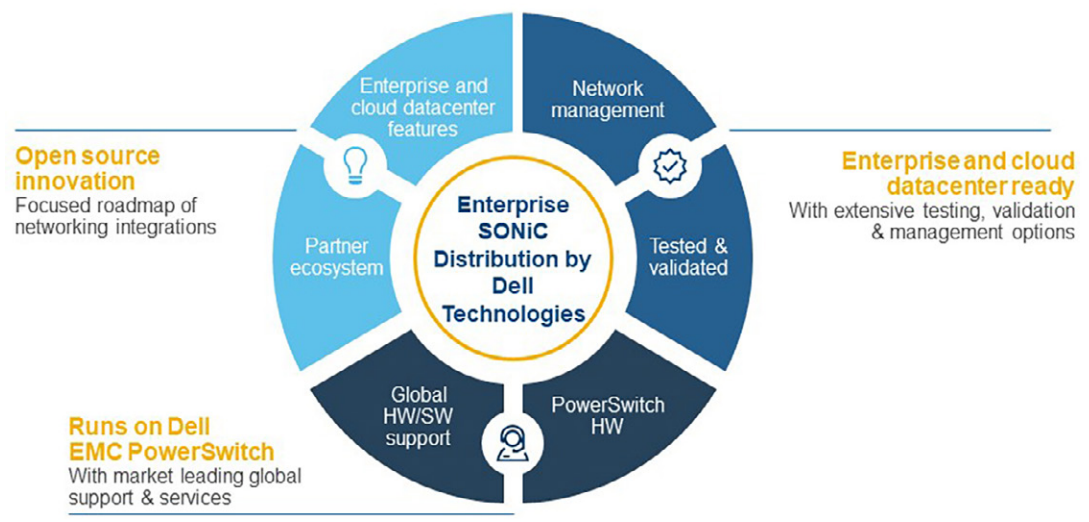 Open source networking made real
Implement a modern containerized network OS architecture to accelerate innovation and evolution
Enterprise SONiC Distribution by Dell Technologies integrates Linux-based, open source SONiC with a focused roadmap of features and enhancements to meet the needs of tier 2 cloud and large-scale enterprise networking environments.
Taking open networking to the next level with containerized OS components
Customized enterprise-focused features and roadmap
Centralized management framework and API-centric software
Enterprise and cloud data center ready
Enterprise SONiC Distribution by Dell Technologies is enterprise-class tested, validated across hardware and software, and integrates an ecosystem of partner management applications.
Across key enterprise use cases on select Dell PowerSwitch platforms
Proven and production-hardened at several large-scale enterprise customers
Includes a growing ecosystem of market-leading partner applications
Operate with confidence from a trusted leader in open networking support and services
Global enterprise-level support you expect with a choice of services that align with the unique needs of your data center environment.
Comprehensive offerings for both hardware and software support
Around-the-clock, consistent support in 165 countries with 60,000+ professionals
Proactive and preventive technologies to help get ahead of issues before impact
---
Pricing Notes:
Pricing and product availability subject to change without notice.